Michigan Air Products is a tight-knit team working to make HVAC easier for both manufacturers and customers. We're a growing, family-owned company and we consider our employees part of that family. Our culture is driven by hard work and a team-first mentality, where everyone is pulling for one another.
Meet the talented, passionate, and fun individuals that make up the Michigan Air Products team.
Featured MAP Team Member: Melanie Carpenter
Role: Office Administrator
Office Location: Grand Rapids, MI
Top #JobLove Moment (Favorite project worked on, proud accomplishment, etc.): I love working for MAP! MAP treats their employees like family.  I feel like MAP strives to know us each as individuals and support all of us in our MAP role, and our life.
Favorite Spot in Michigan: I enjoy the West Michigan lake shore…all of it. I love taking a "beach day" and just driving to several different lake shore parks and towns.
If you were guaranteed to be successful in a different profession, what would you want to do?: I would love to race top fuel drag cars (and had a semi-offer to do so once)!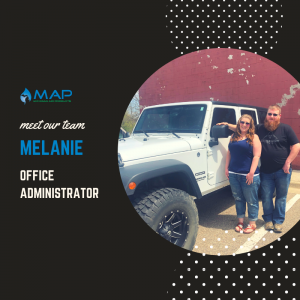 Interested in a career at Michigan Air Products? We want to hear from you! Visit our Careers Page here.