Michigan Air Products is a tight-knit team working to make HVAC easier for both manufacturers and customers. We're a growing, family-owned company and we consider our employees part of that family. Our culture is driven by hard work and a team-first mentality, where everyone is pulling for one another.
Meet the talented, passionate, and fun individuals that make up the Michigan Air Products team.
Featured MAP Team Member: Jon Vidal
Role: Estimating & Sales
Office Location: Grand Rapids, MI
Top #JobLove Moment (Favorite project worked on, proud accomplishment, etc.): Michigan Air Products is like a family. My wife recently had a great job opportunity on the west side of the state while we were living in the Detroit area. We were prepared to turn the job down if a transfer at Michigan Air Products was not possible – that's how much my family values this company and all they've done for our family. The owners not only made a transfer possible, they made it absolutely seamless. That kind of loyalty works both ways. I am incredibly thankful and consider myself very lucky to work for such a great company.
Favorite Spot in Michigan: Traverse City. My wife grew up there and I've become an adopted TC native. Whether spending time on one of the many lakes (my favorite is Lake Leelanau), checking out a new brewery or just hanging out downtown, I always hate having to leave. But, I'm very excited to explore the Grand Rapids area this summer!
What is your favorite movie quote?: Call me cliché, but from Ferris Bueller – "Life moves pretty fast. If you don't stop and look around once in a while, you could miss it." Truer words were never spoken, and it's just been magnified since I had kids. The days are often long, but the years are very short.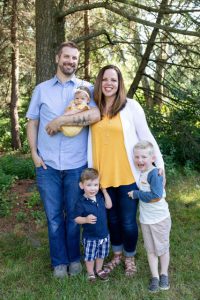 Interested in a career at Michigan Air Products? We want to hear from you! Visit our Careers Page here.