Michigan Air Products is a tight-knit team working to make HVAC easier for both manufacturers and customers. We're a growing, family-owned company and we consider our employees part of that family. Our culture is driven by hard work and a team-first mentality, where everyone is pulling for one another.
Meet the talented, passionate, and fun individuals that make up the Michigan Air Products team.
Featured MAP Team Member: Joshua Rey
Role: MAP Leadership Development Program (MAP's 6-month rotation program that offers experience in Estimating, Project Management, and Sales)
Office Location: Grand Rapids, MI
Top #JobLove Moment (Favorite project worked on, proud accomplishment, etc.): I enjoy working at Michigan Air Products because there is an endless amount of opportunity in learning and growth. Everyone I have dealt with at all offices has been more than willing to help me out if I have questions or need advice in a certain situation. The great people here are the ones that make it possible to enjoy and be thankful that I get to go to work every day!
Favorite Spot in Michigan: Silver Lake Sand Dunes (located along Lake Michigan's sweeping shoreline between Muskegon and Ludington). There's endless activities that can be done and amazing views to take in. This has been my favorite place for as long as I can remember.
If you could live in any TV home, what would it be?:I have never thought about this so the first one that comes to mind is "The Fresh Prince of Bel-Air".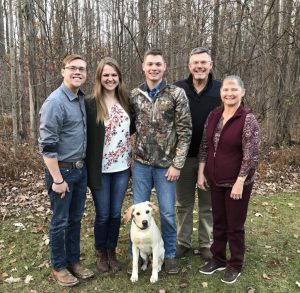 From left to right: Josh's brother-in-law & sister, Josh & his dog, Colt, and Josh's dad & mom
Interested in a career at Michigan Air Products? We want to hear from you! Visit our Careers Page here.