Michigan Air Products is a tight-knit team working to make HVAC easier for both manufacturers and customers. We're a growing, family-owned company and we consider our employees part of that family. Our culture is driven by hard work and a team-first mentality, where everyone is pulling for one another.
Meet the talented, passionate, and fun individuals that make up the Michigan Air Products team.
Featured MAP Team Member: Josh McVety
Role: Sheet Metal Estimating (Josh celebrated 7 years with MAP in July)
Office Location: Troy, MI
What do you like to do on your free time? All of my free time goes to my favorite person in the world, my son Owen. We like chasing the chickens in the backyard, giving the dogs way too many treats, playing with cars, jamming to our favorite music, building block towers so we can knock them down and playing hide and seek.
Top #JobLove Moment (Favorite project worked on, proud accomplishment, etc.): MAP is great because it's like working with a bunch of friends. Everyone here likes to have a good time and is very helpful and supportive.
Favorite Spot in Michigan: The UP 100%, specifically Pictured Rocks National Lakeshore. Hiking and camping here during any season is awesome and being on Lake Superior is a great place to unplug and re-energize.
If you could visit any place in the world where would it be and why?: I've always wanted to travel to the Patagonia region of South America. Torres del Paine National Park is at top of the list with its mountains, glaciers, lakes and rivers.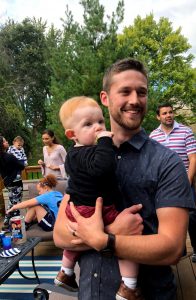 Pictured: Josh and his son, Owen
Interested in a career at Michigan Air Products? We want to hear from you! Visit our Careers Page here.