Source: Price Industries
Providing Terminal Units with Energy Efficiency and Control
Fan-powered terminal units use a motor and blower assembly to handle high levels of external static pressure, which enables the product to serve long duct runs and multiple air outlets. Using a motor within an assembly allows for smaller air handling units and gives the terminal unit the ability to tolerate variability in the heating and cooling requirements of exterior zones.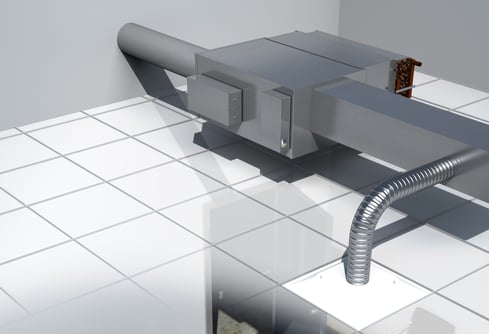 These fan-powered units often use electronically commutated motors, commonly shortened to EC motors or ECMs, a motor technology that has been on the market since 1985. EC motors are brushless, permanent-magnet motors that incorporate a built-in power inverter to convert AC to DC voltage. This motor technology is used in fan-powered units and in system design due to its numerous technological advantages.

One key benefit of using EC motors in fan-powered terminal units is their energy efficiency. These motors consume less power than standard AC motors throughout the operating range. EC motors utilize ball bearings, which allow the turndown speed of the motor to vary from less than 100 revolutions per minute (rpm) to as much as 1,400 or 1,800 rpm depending on the model. The operating speed typically varies based on the terminal unit's size, blower selection and operating conditions.
These motors are also fully programmable, giving users the flexibility to select the program that best suits their application. The operating speed discussed above is programmable, and most manufacturers offer additional programmed features, such as constant volume over a range of downstream static pressure, a preprogrammed fan air volume and a variable fan air volume. Some EC motors also offer speed feedback to the controller describing motor operation.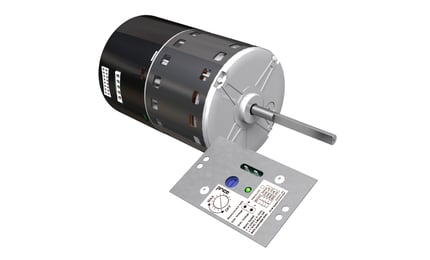 Projects that specify EC motors accommodate variable fan volumes, allowing for further energy efficiency due to turndown or night setback and better thermal comfort through more complicated control sequences.
For more information about how fan-powered terminal units with EC motors can be used in your next project, contact Michigan Air Products at sales@michiganair.com or the Price Industries Terminals team at airmovement@priceindustries.com.