Application of Fan Filter Units in Airborne Infection Isolation Rooms 
A new blog post is up from our partners at Price Industries diving into fan filter units for retrofit isolation rooms. Read the Price blog here or read the information they shared below.
Source: Price Industries
Airborne infection isolation rooms (AIIR) are used for patients with easily communicable airborne disease. When there is a shortage of AIIR, existing patient rooms (or hotel rooms in temporary care facilities) can be converted to negative pressure isolation rooms. Price Fan Filter Units (FFU) can be used in three configurations to retrofit these existing spaces.
Ceiling Mounted Exhaust Flow FFU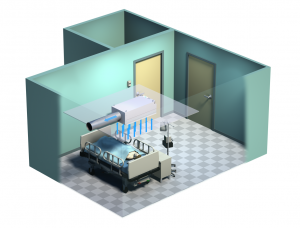 In this, the most permanent and involved application, an exhaust flow FFU is installed in the ceiling near the patient. Air is drawn from the room, HEPA filtered, and then exhausted through existing exhaust/return ductwork.
Portable Exhaust Flow FFU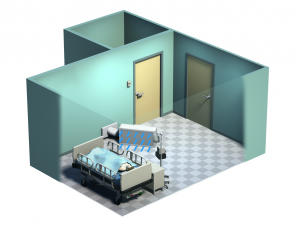 An exhaust flow fan filter unit can be placed on the floor of the patient room and plugged into a standard wall socket, drawing air in through the face of the unit and exhausting HEPA filtered air out through ductwork that is directed to a room exhaust/return grille, an adjacent space, or out a window. It is important that any openings for ductwork are sealed for leakage to maintain room pressurization.
Portable Standard FFU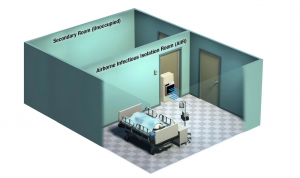 A standard supply air FFU can be placed on the floor of a patient room and plugged into a standard wall socket, drawing air through the back of the unit, and expelling HEPA filtered air out through the face of the unit. The FFU should be positioned in an opening in a doorway or wall that is sealed to prevent leakage past the FFU. Alternatively, the FFU can be placed in the doorway between two adjacent rooms (possibly hotel rooms), to create a negative pressure space where the patient is located.
For more information about Fan Filter Units or Critical Environment products, please contact us at sales@michiganair.com, or visit pricecriticalenvironments.com.
Click here to learn more about Price Critical Environments.