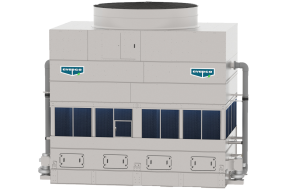 Meet EVAPCO's ESW4 Closed Circuit Cooler, their largest and most energy efficient single cell evaporative cooler.
The new 14' x 22' ESW4 was designed to maximize capacity and optimize energy efficiency in EVAPCO's single largest closed circuit cooler cell available. Utilizing EVAPCO's Crosscool Internal Tube Enhancement and the patented elliptical tube Sensi-Coil Technology, the 14' x 22' ESW4 provides equal or greater capacity than competitive units that are larger in footprint and higher in fan motor HP. The optimized ESW4 was developed specifically for high tonnage applications such as data centers, industrial plants, and large HVAC applications, where the end user requires the lowest energy consumption on the fewest amount of units, connections and fans. The ESW4 offers the most models and box sizes in the industry and is designed with IBC Compliant Construction, FM Approved Construction and CTI Certified Performance.
Product Highlights:
Over 130 models with a wide range of tonnages (270 – 670 nominal tons in a single cell)
Incredibly energy efficient, maximizing capacity in the smallest footprint and lowest connected horsepower
Unique design eliminates need for discharge hood with dampers and reduces freezing concerns during winter months
Patented Sensi-Coil located outside of the airstream uses only sensible cooling, which eliminates water evaporation from the coil, thereby greatly reducing scale build-up on the coil
Reduced footprint, excels where space is a concern
Ideal for replacing older, inefficient and outdated units
Highest IBC (International Building Code) ratings in the industry, available with upgraded construction and 1.5 Importance Factor for critical facilities
Available with FM Approved Construction
Wide array of fan motor HP options (20 HP to 100 HP)
Available with FACTORY-MOUNTED water treatment and EVAPCO's new Water Saver
Independently certified by the Cooling Technology Institute
Read more about the ESW4's Principle of Operation, Product Features, and Equipment Upgrades here.
Want to discuss this product for your project? Email us at sales@michiganair.com.
Source: EVAPCO, Inc.