Benefits of Infrared Heaters & Vehicle Exhaust Extraction Systems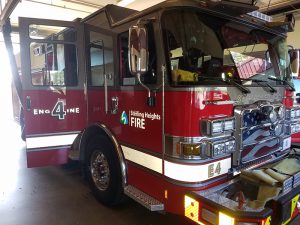 A Michigan Air Products Sales Rep just happened into Sterling Heights Fire Station #4 looking for a broom to sweep up some broken sidewalk glass. As he looked around, he noticed a few products he represents at Michigan Air Products in the station. This blog post will explore our manufacturer partners Nederman and Solaronics, manufacturers with best-in-class products frequently utilized in fire and emergency stations to keep emergency personnel safe and comfortable, especially as the cold winter months approach.
Emergency Vehicle Exhaust Extraction (Source: Nederman)
In a work environment where hazardous fumes are present, having an efficient and convenient exhaust extraction system in place is essential. Some emergency vehicles, such as fire trucks, emit diesel exhaust fumes. These are dangerous particulates, which must be removed in a way that ensures both the safety of the personnel and the ability of vehicles to quickly be dispatched from the station in the event of an emergency.
Working in proximity to diesel-powered vehicles means there is a risk of diesel exhaust fume exposure
Diesel exhaust fumes in the workplace are a concern to all professions where personnel work in environments where they regularly come into contact with diesel-powered vehicles. This includes several categories of emergency personnel, paramedics and firefighters for example, but also mechanics and other repair shop workers that regularly need to run vehicles for diagnostics, engine and fuel injector cleaning, diesel particulate filter regeneration and other maintenance purposes.
Diesel exhaust fumes are carcinogenic, and may result in other health problems as well
Diesel exhaust fumes are made up of various gases and particulates. These gases and particulates get inhaled easily, and the particulates can penetrate deep into the human respiratory system, exacerbating breathing problems and possibly leading to cardiovascular and other diseases; even cancer. Firefighters are among the professions most exposed to the risks of diesel exhaust fume-related illnesses, meaning that as dangerous as their work is while being out on assignment, they also face health hazards back at the station.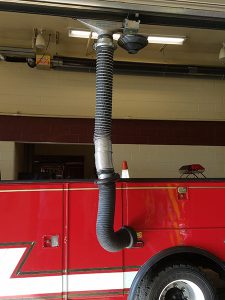 Vehicle exhaust extraction hoses vastly reduce diesel exhaust fume exposure
Nederman's vehicle exhaust extraction systems mainly consist of hoses and nozzles mounted above the vehicles in fire stations, ambulance bays or repair shops, for example. With a fire truck, the nozzles are easy to attach to the exhaust pipe as the fire truck arrives at the entrance bay, where the hoses will extract the fumes right at the source and prevent them from spreading to the personnel. These systems can attach via mechanical, pneumatic, rare earth magnets or electromagnets. In the magnetic controlled systems, known as Magna Track and Magna Rail, the extraction hose attaches to the truck via an electromagnet. When the vehicle departs, the hose will detach smoothly, thus causing no delay and being ready to extract diesel exhaust fumes again as soon as the truck returns to the station.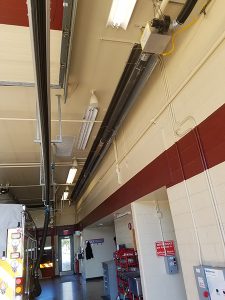 Magna Rail systems allows for several vehicles to be served simultaneously
In a larger fire station, several fire trucks may need to be served simultaneously. The Magna Rail and Magna Rail Green are able to serve four and two vehicles, respectively, at the same time. Both solutions allow for a great deal of customization, depending on the type and size of the facility, and its operational requirements.
Additional benefits with vehicle exhaust extraction hoses
Using systems such as Pneumatic Track, Pneumatic Rail, Magna Track and Magna Rail has benefits beyond those related to extraction efficiency and personnel health. Keeping hoses suspended from above helps keep the station/workshop floor clear. The hoses are very durable and robust, requiring very little maintenance and lasting for many years. Last but not least, these systems have resulted in significantly cleaner work environments, with much less soot and dust on everything from walls and vehicle surfaces to equipment and, most importantly, firefighter's clothing and turnout gear.
Download the Nederman Emergency Vehicle Concept Brochure here.
Infrared Heaters (Source: Solaronics)
Solaronics manufactures and installs tube infrared tube heaters for fire stations across the United States. During the winter, it is important that firefighter's equipment and vehicles stay dry and ready to use in case of an emergency. Fire stations have large overhead doors that allows for ample heat loss when opened. It is important for a fire station to be heated quickly to keep the equipment and vehicles from freezing or remaining damp. Forced air heaters can cause firefighter's equipment to be damp and uncomfortable as well as providing little support with defrosting or defogging the firetrucks.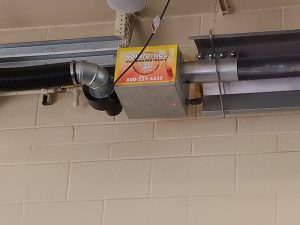 Infrared heaters can help with improving the recovery time by heating the lower walls and floors of the facility to keep the station and equipment warm and the trucks ice and fog free. Solaronics low intensity tube heaters recovery time occurs within minutes due to the floor and objects having stored heat energy that is released as conduction/convection heat, saving time and energy.
Solaronics strategically places infrared tube heaters in areas that allow for proper clearances in fire stations. They are typically mounted above the fire trucks in the garage or along the side walls. Strategic placement will help dry any moisture on the trucks and equipment so they are ready for every call. With the floor and surrounding objects being constantly warm, any moisture quickly dries, keeping the facility safe and ready to use.
Email us at sales@michiganair.com to discuss your project needs today.